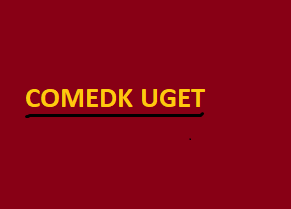 COMEDK UGET exam pattern 2022 corresponds to the overall structure of the exam in which question paper will be framed. With the help of exam pattern, candidates can plan an effective strategy to crack the exam. The COMEDK UGET exam pattern 2022 will comprise of answers to the questions such as how many questions will be there, what will be the marking structure, what will be the total duration of the exam to name a few. The exam is expected to be held in the month of May 2022. Candidates can take advantage of the exam pattern as mentioned in the article and utilize it in their preparation to get an impressive result.
COMEDK UGET Exam Pattern 2022
Exam Mode: Online (Computer Based Test)
Subjects: Physics, Chemistry & Mathematics
Total Questions: 180 Questions
Type of Questions: Multiple Choice Questions (MCQ)
Questions per Section: 60 Questions
Exam Medium: English
Marking Scheme: Each correct answer will fetch +1 marks
Negative Marking: No Negative Marking
Note: In case of a tie in test score, the principle of least numbers of wrong answers will be adopted to break the tie.
COMEDK UGET Syllabus
The syllabus for COMEDK UGET will be based on the prescribed syllabus for class 12th or 2nd PUC. The details of the topics to be studied are stated below for candidate's reference –
Physics: Electro statistics, Current Electricity, Magnetic Effect of Current and Magnetism, Electromagnetic Induction and Alternating current, Electromagnetic waves, Optics, Dual nature of matter, Atoms and Nuclei, Electronic devices and Communication systems.
Chemistry: Solid state, Solutions, Electrochemistry, Chemical Kinetics, Surface Chemistry, Isolation of Elements, P-block Elements , d-block and f-block Elements, Coordination compounds, Haloalkanes and Haloarenes, Alcohol , Phenols and Ethers, Aldehydes, Ketones and Carboxylic acid, Organic compounds containing Nitrogen, Biomolecules, Polymers and Chemistry in everyday life.
Mathematics: Relations and Functions, Algebra, Calculus, Vectors and 3D Geometry, Linear Programming and Probability.
Frequently Asked Questions (FAQs)
What computer knowledge is needed for Computer Based Mode?
No knowledge needed, you only need to know how to operate a mouse.
What will be the medium of CBT based test?
English Medium only
Will I be provided question booklet just as it is given in offline exams?
In CBT based exam, questions appear along with the answer choices on your computer screen. Before the test begins, the screen will show you the instruction to be followed during the exams.
How to answer the questions in CBT based exam?
The questions in CBT based exams will provide 4 answer choices, where you'll have choose one option which can be reviewed or altered during the exam.