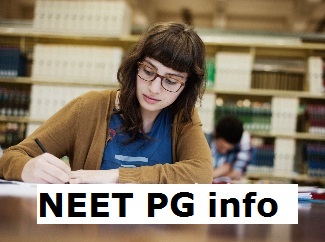 NEET PG 2022 application form submission deadline has been extended till 25th March 2022. The National Board of Examination will conduct NEET PG 2022 on 21st May 2022. It is single window entrance examination for admission to PG medical courses such as MD/MS/PG Diploma Courses. Please remember that no other entrance examination either at institution or state level is considered valid for entry to MD/MS/PG Diploma Courses. NEET PG 2022 is accepted nationwide in the following means-
All India 50% quota seats for MD/MS/PG Diploma courses (all states excluding Telangana, Andhra Pradesh, and Jammu & Kashmir)
State quota seats for MD/MS/PG Diploma courses for all States/Union territories of India (including the states of Telangana, Andhra Pradesh, & Jammu & Kashmir)
MD/MS/PG Diploma courses at all Private Medical Colleges, Institutions & Universities/Deemed Universities all over the country.
MD/MS/PG Diploma courses at Armed Forces Medical Services Institutions.
DNB Broad specialty courses
Important Note– Following institutions are not covered under Centralized Admission Process through NEET PG 2022:
AIIMS, New Delhi
JIPMER, Puducherry
PGIMER, Chandigarh
NIMHANS, Bengaluru
Sree Chitra Tirunal Institute for Medical Sciences and Technology, Trivandrum
The last date to apply for NEET PG has been extended till 25th March 2022.

NEET PG 2022 application form is available from 15 January 2022, 3PM onwards.

NEET PG 2022 will be held on 12th March 2022.
An Overview of NEET PG 2022
Purpose of the test
Offering admission to MD/MS/PG Diploma courses
Periodicity
Annual
Pattern of the Exam
MCQ based exam with single correct response
No. of questions
300
Exam Duration
3 Hrs. 30 min.
Negative Marking Rule
For every incorrect attempt, 1 mark will be deducted
Exam Syllabus
According to the Graduate Medical Education

Regulation

Mode of the exam
Computer based exam
Deadline of online application
4th February 2022 (Till 11:55 PM) 25th March 2022
Exam date
21st May 2022
Result to be declared by
June 2022
NEET PG 2022 Important Dates
Check out here the tentative calendar for NEET PG 2022. The dates given in the table are to be replaced by actual dates soon after the release of its respective notification.
Get Medicine,Exam Updates through e-mail, by entering your details below.
| | |
| --- | --- |
| Activities | Related Dates |
| Notification to be out on | Out |
| Online registration for NEET PG 2022 | 15 January 2022 3PM to 4th February 2022 (Till 11:55 PM) 25th March 2022 |
| Date of NEET PG 2022 | 12th March 2022 21st May 2022 |
| Result to be declared by | June 2022 |
NEET PG 2022 Application Form
Candidates can register and submit the application form for NEET PG 2022 through the official website of the National Board Examination i.e. www.nbe.edu.in. Candidates must go through the prescribed registration guide before proceeding further.
The online registration process has been started from 15th January 2022. Candidates do not have any other option rather than submitting the form online.
Upon submission of the form they will get a computer generated acknowledgement. The same will be sent to them through mail as well. Candidates must preserve the hard copy of filled application form till the admission process lasts.
Application Fee
GEN/OBC categories- Rs. 3750/-
SC/ST/PwD (PH) categories- Rs.2750/-
Payment Mode- Internet Banking, Credit Card or Debit Card
NEET PG 2022 Eligibility Criteria
Probably, now you'd have an overall idea about NEET PG 2022 application process. Here comes the time to verify your eligibility first. Please remember an ineligible candidate is not allowed to take the test.
Nationality Criteria
Indian as well as Foreign nationals are permitted to apply for NEET PG.
Educational Qualification
An MBBS degree holder or candidates having Provisional MBBS Pass Certificate recognized as per the provisions of the Indian Medical Council. They should have permanent or provisional registration certificate of MBBS qualification issued by the Medical Council of India or State Medical Council.
Additionally, candidates should have completed one of internship or likely to complete the same on or before 31st March 2022.
Eligibility Criteria for All India 50% Quota Seats
If candidates have passed the qualifying exam i.e. MBBS from the states of Andhra Pradesh, Telangana and Jammu & Kashmir, then they are not eligible for All India 50% Quota seats. However, in case they are nominated by the Government of India to study MBBS programme from Medical College in erstwhile Andhra Pradesh and Jammu & Kashmir then they are eligible.
NEET PG 2022 Syllabus
NEET PG 2022 syllabus comprises of subjects areas according to the Graduate Medical Education Regulations as notified by Medical Council of India. Questions are to be asked from following subject areas. You may refer the syllabus further.
ANATOMY
BIOCHEMISTRY
PHYSIOLOGY
MICROBIOLOGY
PHARMACOLOGY
PATHOLOGY
SOCIAL AND PREVENTIVE MEDICINE
FORENSIC MEDICINE
SURGERY, ENT, ORTHOPEDICS & ANAESTHESIA
MEDICINE DERMATOLOGY AND VENEREOLOGY
OBSTETRICS AND GYNAECOLOGY
RADIODIAGNOSIS & RADIOTHERAPY
OPHTHALMOLOGY
PAEDIATRICS
PSYCHIATRY
NEET PG 2022 Exam Pattern
Now, let's talk about the exam pattern for NEET PG 2022-
Exam Mode– NEET PG is a computer-based test.
Questions' Type– All the questions will be multiple choice questions with single correct response.
of Questions– The total number of questions will be 300.
Exam duration– 3hr 30 min
Negative Marking– 1 mark will be deducted for every incorrect answer.
Positive marks– Every correct attempt will lead to 4 marks.
Distributions of Questions
| | | |
| --- | --- | --- |
| Sl. No | Subjects Involved | No. of Questions |
| 1. | ANATOMY | 15 |
| 2. | PHYSIOLOGY | 15 |
| 3. | BIOCHEMISTRY | 15 |
| 4. | PHARMACOLOGY | 20 |
| 5. | MICROBIOLOGY | 20 |
| 6. | PATHOLOGY | 25 |
| 7. | FORENSIC MEDICINE | 10 |
| 8. | SOCIAL AND PREVENTIVE MEDICINE | 25 |
| 9. | MEDICINE DERMATOLOGY AND VENEREOLOGY | 37 |
| 10. | SURGERY, ENT, ORTHOPEDICS & ANAESTHESIA | 46 |
| 11. | RADIODIAGNOSIS & RADIOTHERAPY | 12 |
| 12. | OBSTETRICS AND GYNAECOLOGY | 25 |
| 13. | PAEDIATRICS | 15 |
| 14. | OPHTHALMOLOGY | 10 |
| 15. | PSYCHIATRY | 10 |
| | In Total= | 300 Questions |
Best Books to Prepare for NEET PG 2022
Based on the syllabus and exam pattern illustrated above, we are specifying the name of best books for the preparation.
Sl. No
Subjects Involved
Suggested Book
1.
For ANATOMY
Gray's Anatomy, International Edition
2.
For PHYSIOLOGY
Ganong's Medical Physiology by

Kim E. Barrett

3.
For BIOCHEMISTRY
Harper's Illustrated Biochemistry 30th Edition
4.
For PHARMACOLOGY
Basic and Clinical Pharmacology by Katzung B.G
5.
For MICROBIOLOGY
Jawetz, Melnick and Adelberg's Medical microbiology by Carroll
6.
For PATHOLOGY
Robbins Basic Pathology by Abbas,Kumar,Aster
7.
For FORENSIC MEDICINE
Dr. P.C.Ignatius Forensic Medicine and Toxicology
Admit Card
On the day of exam, candidates have to bring following documents-
Hard copy of admit card with their photograph pasted on it;
Photocopy of Permanent / Provisional SMC/MCI registration;
One of the photo identity proofs- PAN card/ Voter ID/ Driving license/Passport/ Aadhar Card (with photograph).
The admit card will be sent to candidates' registered email ID usually 4 days before commencement of the exam.
NEET PG 2022 Result
NEET PG 2022 result is possible to be declared by April 2022. Candidates can check their respective result from the official website simply by entering the roll number and date of birth. Additionally, they are also allowed to download their scorecard in PDF format.
NEET PG 2022 FAQ
Ques- What is NEET PG?
Ans- NEET PG is a single postgraduate medical test conducting for admission to several MD/MS and PG Diploma Courses.
Ques- Is NEET PG mandatory for admission to any Postgraduate Medical Courses?
Ans– Yes, it is mandatory.
Ques- Explain the exam format of NEET PG 2022.
Ans– NEET PG 2022 is going to be held on computer-based test (CBT) platform. Candidates need to read the questions on a computer screen and select the appropriate answer by using a mouse. There will be 300 questions in total.
Ques- What is the exam fee?
Ans- The exam fee is Rs. 3750 for General/OBC candidates and Rs. 2750 for SC/ST/PWD  category candidates.
Ques- Define Test Timings and Reporting Timing?
Ans-
| | | |
| --- | --- | --- |
| Events | Forenoon Session | Afternoon Session |
| Entry Time at Reporting Counters | 9:00 AM | 2:45 PM |
| Reporting Counter Entry will be Closed on | 9:30 AM | 3:15 PM |
| Check-in Procedure starts | 9:00 AM to 10:00 AM | 2:45 PM TO 3:45 PM |
| Exam will start by | 10:00 AM | 3:45 PM |
| Exam will end by | 1:45 PM | 7:30 PM |
Ques- Who is going to conduct counselling for DNB courses?
Ans- NBE will conduct Centralized merit based Counseling based on candidates' NEET PG score for admission to DNB Courses.
Ques: Who is going to conduct the counseling process for All India 50% quota seats?
Ans– It will be conducted by Medical Counseling Committee (MCC) of Director General of Health Services, Government of India.
For Latest Updates Please Subscribe our Telegram Channel: Here