Lady Shri Ram College for Women (LSR) is one of 91 colleges under Delhi University. The college was established in 1932. Read this post to explore Lady Shri Ram College for Women (LSR) Delhi regarding its admission for the session 2022-2023, courses offered, seats offered in each course, facilities, cut-off, fee structure, helpline number, address, email etc. Students can share their concern through the comment box below.
Courses Offered by Lady Shri Ram College for Women (LSR)
Here is the list of courses offered by LSR Delhi:
Honours courses –
Get ,Exam Updates through e-mail, by entering your details below.
Commerce
Economics
English
Hindi
History
Journalism
Mathematics
Philosophy
Political Science
Psychology
Sanskrit
Sociology
Statistics
Facilities Offered by LSR Delhi
Here are the facilities offered by LSR Delhi. The college is among the 91 colleges under Delhi University.
Infrastructural Accessibility
Auditorium and Seminar Rooms
Bookstore
Bank
Computer & Statistics Lab
Counselling Cell
Café
Medical Room
Library
Garden
On Campus Housing
Sports Facilities
 Lady Shri Ram College for Women Delhi Admission 2022
You need to check the cut-off at the official website of Delhi University. Further, you need to login to your dashboard and select the course as per your eligibility. Further, the college will review your application and if everything is correct and in order then they approve your admission. Once your admission is approved then the same would be reflected in your dashboard. Further, you need to pay the fee. Your admissions would be considered approved only after the payment of fee. Please check all admission related details at college official website.
LSR Delhi Fee Structure
Please go through the fee structure of LSR Delhi:
UG Fee Structure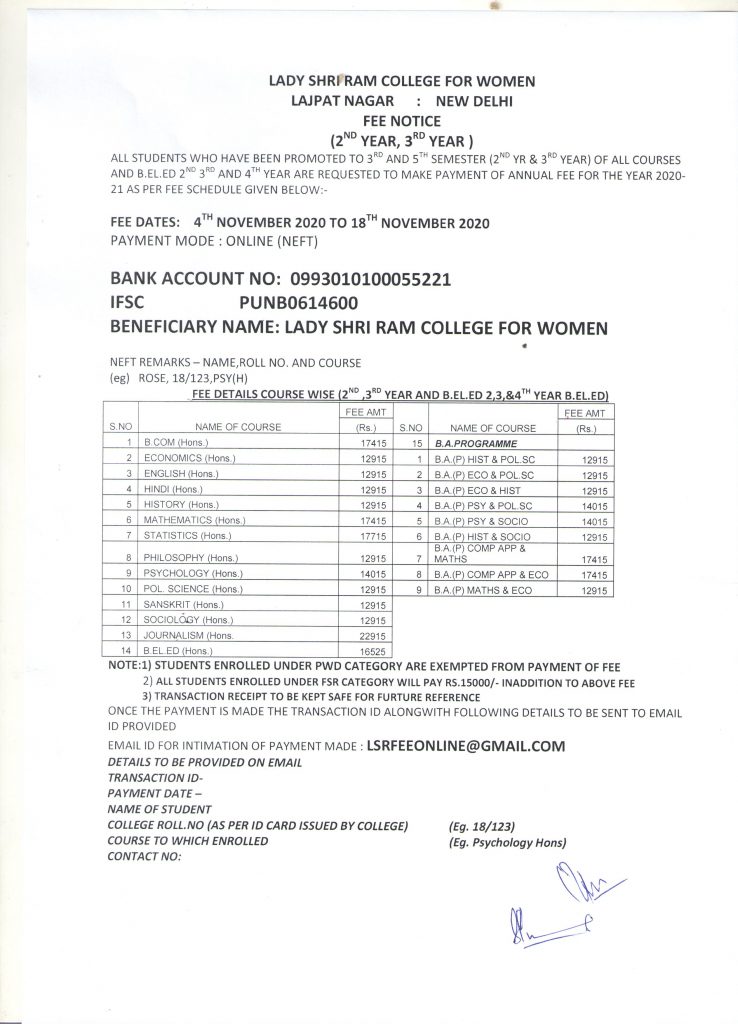 PG Fee Structure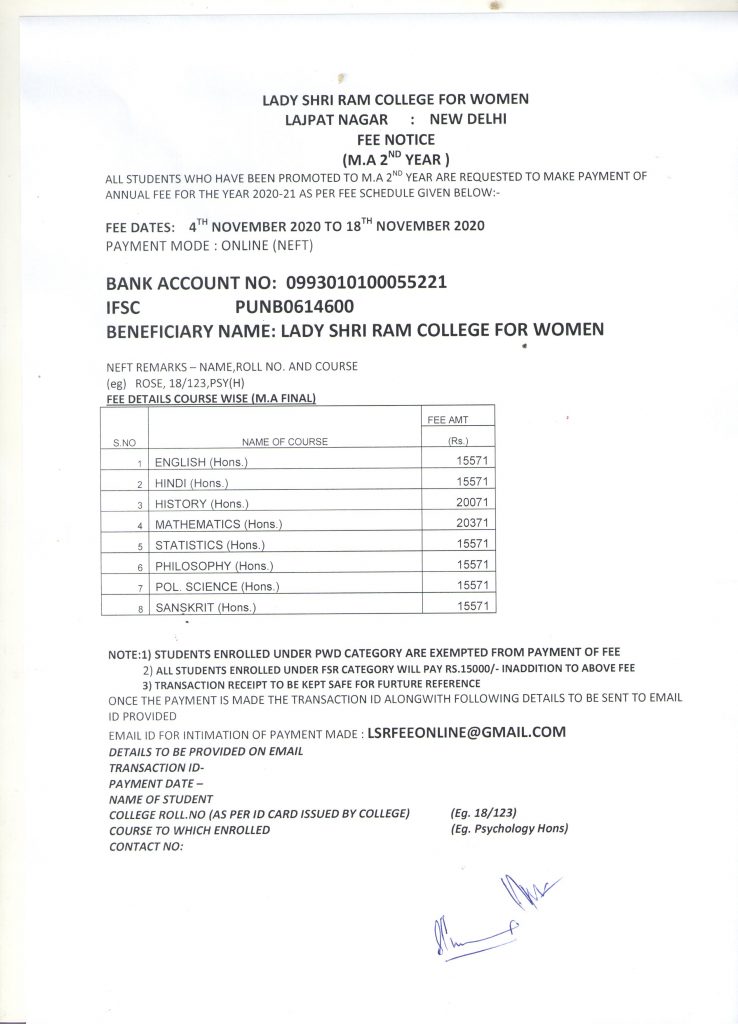 LSR Delhi HelpDesk
Address: Lajpat Nagar-IV New Delhi – 110024
Phone no- 91-11-26434459
Email- principal@lsr.du.ac.in
About Lady Shri Ram College for Women
Lady Shri Ram College for Women, has long been recognized as a premier institution of higher learning for women in India. A centre for academic excellence and achievement, it is today one of the finest institutions for Social Sciences, Humanities and Commerce, while also offering a B.Sc. Programme in Statistics. Professional courses like Elementary Education and Journalism are among its strengths. Located at the cutting edge of knowledge, LSR has not just kept pace with the changing world, but has been the pioneering spirit behind many innovations in the field of education.