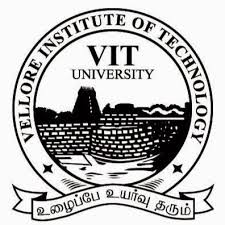 | | |
| --- | --- |
| Establishment Year: | 1984 |
| Location: | Vellore |
| Website: | www.vit.ac.in |
| Recognized By: | Deemed university |
| Affiliated To: | University Grants Commission |
| Contact No.: | +91 – 416-220-2157/2168/4600 |
Introduction
Programmes
Admission
Placement
The reputed educational institution VIT University, Vellore is purely dedicated to the pursuit of the excellence. It is the private university which offers various undergraduate and post graduate courses to the students. This university has world-class faculty which always encourage the students and show them the path to the ultimate success. The students are drawn from 50 countries and from each state of the India. VIT University, Vellore has been accredited as an 'A' grade university by the NAAC.
The VIT University, Vellore is the most prominent and deemed educational institution of India. The University offers 20 UG Programs, 34 PG Programs and 4 research and integrated programs each. It has world class faculty members and the lush green campus where the students are always encouraged. The VIT University, Vellore is constantly being ranked one of the top ten universities of India.
Foundation:
Get ,Exam Updates through e-mail, by entering your details below.
The VIT University, Vellore is founded by the Dr. G Vishwnathan in the year 1984.Earlier it has a small campus offering only three undergraduate courses i.e. civil, electronics and mechanical and was affiliated to the Madras University. Earlier it was known as Vellore engineering college. This university continued its progress under the leadership of their founder. In the year 2001, this was conferred as deemed university and evolved as the Vellore institute of Technology (VIT).
Facilities provided by VIT University
There are various facilities offered by the VIT University, Vellore. Some of these facilities are mentioned here for the convenience of the students.
Hostels
Gymnasium
Sports
Library
Best infrastructure
Cafeteria
Auditorium
Medical
Type:
The VIT University, Vellore is a PRIVATE university which is located in Vellore city, Tamil Nadu and offers about 64 courses (UG, PG, Research and Integrated) to the students.
VIT University Location:
The VIT University, Vellore is situated near the Katpadi road, Vellore, Chennai. It is exactly 130 km west from Chennai and 180 km east from Bangalore. Vellore – Katpadi junction is the nearest railway station from VIT University, Vellore.
VIT University Contact Details:
The student can contact the following address:
Dr. K Manivanan
Director UG programs
VIT University
Vellore – 632014
Tamil Nadu, India
Phone: +91 – 416-220-2157/2168
Fax: +91-416-224-5544
Email: [email protected]
Dr. G Kalaichelvan
Director PG admissions
VIT University
Vellore – 632 014
Tamil Nadu, India
Phone: +91-416-220-4600
Fax: +91-416-224- 5544
Email: [email protected]