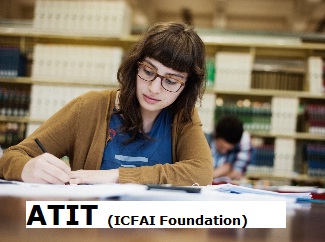 The admission test for ICFAI Tech (ATIT 2022) will be conducted by the ICFAI Foundation for Higher Education, Hyderabad for admission into various B.Tech programs offered by it. The exam is also known as ICFAI Tech School Admission Test (ITSAT). Interested candidates can apply for the exam via online mode. All they need to do is visit the official website of the ATIT i.e. ICFAI University. But before proceeding for the application form, it is necessary for the candidates to know all about the exam. Through this article, candidates will get complete information on the ATIT 2022 Exam in a simplified way. The article features the exam pattern, eligibility criteria, application form, syllabus etc.
ATIT 2022 Important Dates
Candidates can note down the official dates given below and begin their preparation for ATIT 2022 Exam.
| | |
| --- | --- |
| Events | Dates |
| Application form availability | January 2022 |
| Last date to fill the form | April 2022 |
| Computer based test | April 2022 |
| Admitted and waitlisted candidates | May 2022 |
| Date of sliding 1 | June 2022 |
| Admission reporting | July 2022 |
| Date of sliding 2 | July 2022 |
| Date of sliding 3 | August 2022 |
Eligibility Criteria for ATIT 2022
Eligibility criteria for ICFAI University Dehradun, IFHE Hyderabad, ICFAI University Jaipur, ICFAI University Raipur & ICFAI University Jharkhand:
Candidates should have passed class 12th or its equivalent from a recognized board with Physics, Chemistry, Mathematics, and English as compulsory subjects and have scored minimum 50% aggregate marks to be eligible for ATIT 2022.
For ICFAI University Himachal Pradesh:
Candidates must have cleared class 12th or its equivalent with Physics, Chemistry, Mathematics, and English as compulsory subjects and have scored at least 55% marks from a recognized board.
Note: Candidates appearing in class 12th can also apply. Candidates should have completed 12 years of formal schooling.
ATIT Application Form 2022
Students have a choice to fill the application form via online mode. The application form will be released on the official website. Candidates need to register themselves for the ATIT 2022 Exam. The details should be filled carefully as there will be no provision for editing the form after it is submitted.  Candidates also need to keep the scanned copy of the photograph and signature ready while filling the online form. However, candidates can choose to submit the form via online mode or offline mode. For offline mode, students must download the online form and send the hard copy to the admission office along with the demand draft. The application fee to be paid by the candidate is mentioned below.
Application Fee
The application fee to be paid by the candidates for ATIT 2022 is Rs. 500/-. Candidates can choose to pay the fee via online/offline mode. For online mode, they can make the payment through debit card/credit card/ net banking. For offline mode, a DD should be drawn in favour of "IFHE A/c ATIT" payable at Hyderabad.  The DD along with the form should be sent to the following address –
Admissions Officer (B.Tech. Program)
ATIT Office, III Floor, Plot # 65, Nagarjuna Hills,
Punjagutta, Hyderabad-500082, Telangana State.
Ph: 040-23440966/67/68,
Toll-Free: 1800-425-0767
Exam Pattern
Candidates should know the ATIT exam pattern to prepare for the exam accordingly. Students can take a reference from the exam pattern given below for their convenience-
Exam Mode: Online and Offline
Duration: 2 Hours
Language: English
Type of Questions: MCQs
Subjects: Physics, Chemistry, English and Mathematics
| | |
| --- | --- |
| Subjects | Total Marks |
| Physics | 30 |
| Chemistry | 30 |
| Mathematics | 30 |
| English | 30 |
| Total | 120 |
Syllabus
The syllabus of ATIT is typically based on the syllabus prescribed for class 11th and 12th. Here are the topics needed to be covered under the syllabus for ATIT 2022-
Mathematics: Matrices and Determinants, Quadratic Equations, Sets, Relations and Functions, Complex Numbers, Permutations and Combinations, Binomial Theorem and its Applications, Mathematical Induction and its Applications, Sequences and Series, Differential Calculus, Integral Calculus, Differential Equations, Two Dimensional Geometry, Three Dimensional Geometry, etc.
Physics: Description of Motion in Two and Three Dimensions, Units and Measurement, Description of Motion in One Dimension, Laws of Motion, Work, Energy and Power, Oscillations and Waves, Rotational Motion and Moment of Inertia, Gravitation, Solids and Fluids, Heat and Thermodynamics, Transference of Heat, Electrostatics, etc.
Chemistry: States of Matter, Atomic Structure, Some Basic Concepts, Chemical Energetics and Thermodynamics, Second law of thermodynamics, Chemical Equilibrium, Redox Reactions and Electrochemistry, Inner Transition Element, Coordination Chemistry and Organo Metallics, Nuclear Chemistry, Purification and Characterization of Organic Compounds, Hydrocarbons, Organic Compounds Containing Halogens, Organic Compounds Containing Oxygen, etc.
Preparation Tips for ATIT 2022
Here are some preparation tips for the candidates to succeed in the ATIT Exam-
Create a time table that can be followed daily. Don't procrastinate.
Know your strength & weakness and prepare accordingly.
Brush up the basic concepts first.
Use only a few reference books. Always start your preparation with the NCERTs.
Practice sample papers and previous year papers.
Make short notes while studying.
Learn the shortcuts if needed.
Recommended Books
Physics, Chemistry, Mathematics by Pradeep Publications.
Concepts of Physics by H.C Verma
Chemistry by Dinesh
Mathematics by R.D Sharma and R.S Aggarwal
A practical guide to English grammar by K.P Thakur
Admit Card
The admit card for ATIT Exam can be obtained from the official website only after booking the slot for the exam. Once the slot is booked, candidates can download the admit card and retain a printout copy of it for future use. It is to be noted that the entry to the exam hall will not be given to the candidates without the admit card and a valid ID proof. Therefore, students should keep in mind to carry these documents while leaving for the exam. The admit card should be kept safe till the admission process is over.
Result
Candidates can access their ATIT 2022 Result from the official website. The authority will send the result to the qualified candidates via Email/Post. Only those candidates will get the selection letter who qualified the exam. Students are suggested to keep tabs on the official website for fresh updates on the ATIT Exam.