The West Bengal Joint Entrance Examinations Board may release WBJEE 2024 application form in December 2023. The candidates interested in admissions in undergraduate courses in Engineering & Technology, Pharmacy, and Architecture in the colleges situated in the state of West Bengal will have to fill the application form. The application form will only be available online and must be submitted or before the last date. Only the details true to the knowledge should be provided in the form otherwise the candidature of the applicant can be cancelled at any further stage. This article provides the full details of the WBJEE application form such as important dates, steps for form filling, fee structure, etc.
Things to Remember
Students can get WBJEE application form in online mode only. There is no printed application form available.
You must fill genuine application available at wbjeeb.nic.in.
You need to keep your mobile number and email ID with you before filling the application form. All the further communication between you and WBJEEB will be made through this only. Please do not provide wrong email ID and mobile number.
Registration details such as your name, father's name, mother's name, date of birth and gender once entered and submitted won't be changed or modified.
Do not submit duplicate application.
Never share your application number, password and security question/answer with anyone.
You need to upload scanned copy of your signature and photograph as per the instructions provided in the brochure.
You can make correction in fields rather than name, mother's name, father's name and date of birth during the given period of correction.
If you receive any email/SMS regarding discrepancy in the uploaded photograph and signature then you need to take action within one day.
The prescribed application fee for WBJEE is Rs.500 plus bank's service charge. You can make payment using debit card/credit card/net banking.
Keep copies of your admit card and confirmation page in the safe custody.
If you have any query(s), please contact
Controller of Examinations
West Bengal Joint Entrance Examination Board
Get Engineering,Exam Updates through e-mail, by entering your details below.
AQ-13/1, Sector-V, Salt Lake City, Kolkata-700091
Helpdesk:1800-1023-781, 1800-3450-050
WBJEE Application Form Filling Steps
Before you follow the steps given below, you need to confirm whether you meet all eligibility criteria prescribed for WBJEE exam.
Step 1: Registration
The application form for WBJEE will be made available online on the official website wbjeeb.nic.in.
Using a working mobile number and an email ID, the candidate will have to complete the registration process. This mobile number and email ID will be used by the board for future communications.
The candidates will have to enter their name, father's name, mother's name and date of birth during the registration process. The registration details once submitted will not be edited under normal circumstances.
Step 2: Application Form Filling
The candidates will then fill up the application form by providing personal information such as nationality, religion, examination zone choice, academic detail etc.
The candidate will also have to provide a password and security question/answer, which will be used in case of password recovery.
After this, the application form will be submitted successfully. An application number will be generated and an SMS or email regarding the same will be sent to the applicant.
Form Correction Window
A correction window will open for a fixed period of time and the candidates can make changes in their WBJEE exam form. However, the data entered during primary registration cannot be modified.
Ques: How can I make corrections in the application form?
Ans: You are not allowed to make corrections in the primary data such as your name, father's name, mother's name and date of birth. You can make corrections in other fields during the correction period.
Ques: What do you mean by correction window?
Ans: It is basically a period of 3 days which is activated after the online application process is over. Candidates can make corrections in other fields rather than name, mother's name, father's name, date of birth and gender during this period.
Ques: I have not received my application number through SMS? What should I do now?
Ans: Maybe you have not provided your correct mobile number. If you have provided a correct mobile number then the cases may occur due to the low network connectivity.
Read More
Step 3: Uploading of images
The photograph to be uploaded must be taken recently and must be of high.
The background of the photograph must be of very light color and spectacles of dark or tinted glasses will not acceptable.
The same copy of photograph must be taken to the examination centre and during counseling and admission process.
The format for photograph and signature is given below:
| | | | |
| --- | --- | --- | --- |
| Image | Format | Size | Dimension |
| Photograph | JPG/ JPEG | 3 kB to 100 kB | 4 cm x 3 cm |
| Signature | JPG/ JPEG | 3 kB to 30 kB | 4 cm x 1.5 cm |
Step 4: Payment of Examination Fees
The application fee can be paid through Net Banking/ Debit Card/ Credit Card or through Allahabad Bank e-Challan. In case of Challan, the candidate will have to take a printout of the Challan and deposit the fees in cash in any branch of Allahabad Bank with Core Banking Services (CBS).
The chargeable fee is Rs. 500/- plus service charge applicable as per the mode of payment selected.
The fee once submitted will not be refunded under any circumstances.
Step 5: Downloading of Confirmation Page
After the payment of the fee, the candidates will be directed to the 'Confirmation Page'. A printout of the confirmation page must be taken as it is the proof of your registration. In case of loss of confirmation page, the board will provide a duplicate copy, but only until a specified date. However, a processing fee of Rs. 500/- will be applicable and will be paid through a bank draft drawn in favor of "West Bengal Joint Entrance Examinations Board" payable at Kolkata.
Guidelines to Fill up Application Form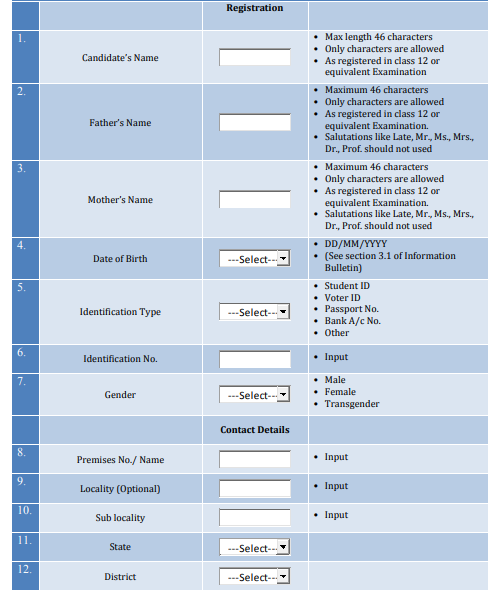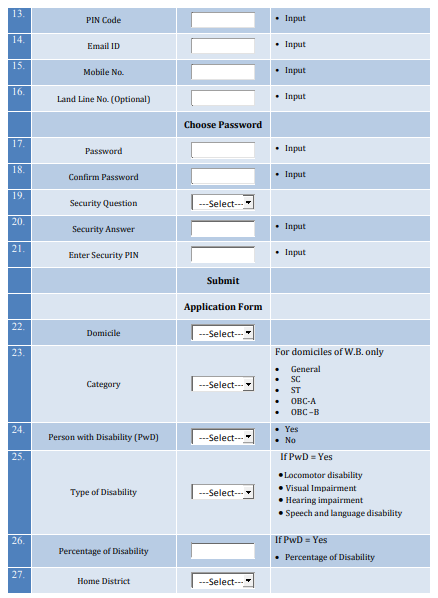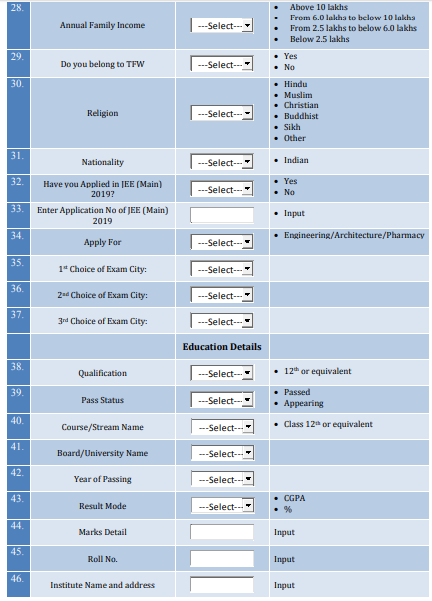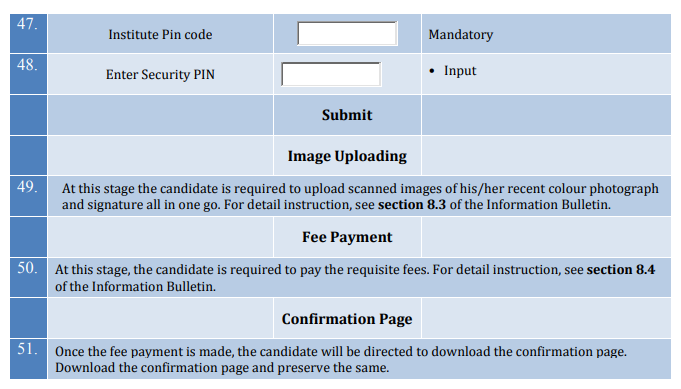 WBJEE 2024 Online Application Link
Also check
Best Reference Books for WBJEE Exam
WBJEE Syllabus: Mathematics, Physics, Chemistry
WBJEE Application Form Correction
How to Know WBJEE Application Form
For Latest Updates Please Subscribe our Telegram Channel: Here