Lady Hardinge Medical College Delhi conducts LHMC Nursing 2018 entrance exam for female candidates who are seeking admissions in B.SC (Hons.) nursing programme for academic year 2018. The duration of this course is four years. The official notification regarding LHMC Nursing 2018 entrance exam has released.
About the Institute 
Established in 1914, The Lady Hardinge Medical College for women is a leading institute for nursing education in India. The college began under the management of Dr. Kate Platt, who was the first Principal of the college. Initially started as a school of nursing, LHMC was promoted to college of nursing in Sep 2007 with the proposal and financial aid of Ministry of Health and Family Welfare. It is academically associated to University of Delhi and is recognized by Indian Nursing Council. Here in this article we are mentioning the complete details about LHMC Nursing 2018 entrance exam including eligibility criteria, admission process application form etc for applicants seeking admissions in B.Sc (Hons) Nursing course under this institute.
Availability of Courses:
The College of Nursing offers B.Sc.(Hons.) Nursing programme of four years duration
Lhmc 2018 Important Dates- Announced 
| | | |
| --- | --- | --- |
| Sl. No | Events | Important Dates |
| 1. | Date of advertisement | Released |
| 2. | Prospectus and admission form sale | May to June 2018 |
| 3. | Deadline for receiving of admission forms | June 2018 |
| 4. | Admission tickets will be dispatched | June 2018 |
| 5. | Written exam date | June 2018 |
| 6. | Result of written test and merit list will be declared | July 2018 |
| 7. | Admission dates for selected candidates | July 2018 |
| 8. | 1st waiting list will be displayed | July 2018 |
| 9. | Admission of candidates from 1st waiting list | July 2018 |
| 10. | 2nd waiting list will be displayed | July 2018 |
| 11. | Admission of candidates from 2nd waiting list | July 2018 |
| 12. | Academic session will start | July 2018 |
Eligibility Criteria:
Only female applicants are eligible to apply for the course.
Interested candidates must have qualified senior Secondary School Certificate Examination or Indian School Certificate Examination (12th) or its correspondent from recognized University/board with at least 50% total marks (45% for candidates belonging to S/C S/T & OBC categories) with subjects including English Core Elective, Chemistry, Physics, and Biology without any compartment.
Minimum age limit is seventeen years as on examination year.
Working information of Hindi is compulsory
Reservation of seats:
 The reservation for SC/ST/OBC applicants will be on the basis of Govt rules
LHMC Nursing 2018 Application Form:
Application form and bulletin for LHMC 2018 Entrance exam will be available from College of Nursing, LHMC and related Hospitals, New Delhi by providing attested copies of class12th mark sheet and class 10th certificate for age proof along with a demand draft or banker's cheque of Rs 250/- as application fee payable at New Delhi favoring the Director, LHMC and allied Hospitals, New Delhi
Application forms can be received either in person or by post
Exam Pattern
The test will consist of only objective type questions from Physics, English, Chemistry, Biology and General Knowledge. All questions will be asked in English language only. Talking about the exam duration will be for 2 hours.
Lhmc B.Sc. (Hons.) Nursing Syllabus 2018
Major contents of the syllabus are Biology, Biochemistry,and Microbiology, Fundamentals of Nursing, Psychology, Anatomy & Physiology, Sociology, Medical Surgical Nursing, Preventive Medicine and Epidemiology Nutrition Dietetics, Psychiatric Nursing Pediatric Nursing, Community Health Nursing Introduction to Nursing Education &Administration, Obstetrical Nursing and introduction to Research and Statistics.
Candidates should have practical experience both in community and hospital setting.
As all instructions will be in English only therefore candidates should be proficient enough in written as well as verbal English.
List of documents required to attach with application form:
Bring certificate from the Principal of the previous School attended
Approval Letter of authority from parent or Guardian representing their keenness to join the programme
Letter of authority from parent declaring the name of local guardian with valid address and registered phone Number
Genuine caste certificate for candidates from Scheduled Caste (SC)/Scheduled Tribe (ST)/OBC from a Divisional Magistrate, if relevant; self addressed envelope amounting of Rs.25/- stamp attached
Approval card with address of applicant and Rs.10/- stamp attached
Lawful document in case of widow or Divorcee (Attested copy)
Admission ticket with applicant's Name and Father's Name filled by applicant and with applicant's signature are to be submitted in duplicate with recent two passport size photographs (unattested) attached (similar copies as on the form)
Passport size photograph attached on form appropriately signed by the applicant and attested by the Principal of the School previously attended or a Gazette Officer
Candidate can also download the admission form and bulletin for admission to B.Sc (Hons) Nursing programme through online by visiting the official website of Ministry of Health and Family Welfare which is http://mohfw.nic.in and the same may be sent along with the demand draft/Banker cheque with all above mentioned documents.
Admission Tickets
Admission tickets in respect of candidates, who have successfully submitted their applications, will be dispatched by 11th June, 2018.
Candidates who have not received their admission tickets latest by 23rd June, 2016 they need to contact the college office individually on 24th June, 2016 between 10.00 AM to 04.00 PM.
Result and Merit List
Lhmc 2018 result will be available to view on the Main Gate of College of Nursing on July 2018. Each candidate needs to see his/her result personally; no telephonic information and official correspondence will be provided in this regard.
The list of shortlisted candidates according to their merit will be published on July 2018 and admission process will be held from July 2018 on working days. At the time of admission, candidates will be asked to deposit their fee.
The authority is going to publish 1st waiting list on July 2018 whereas, 2nd waiting list will be displayed on July 2018.
Fee Structure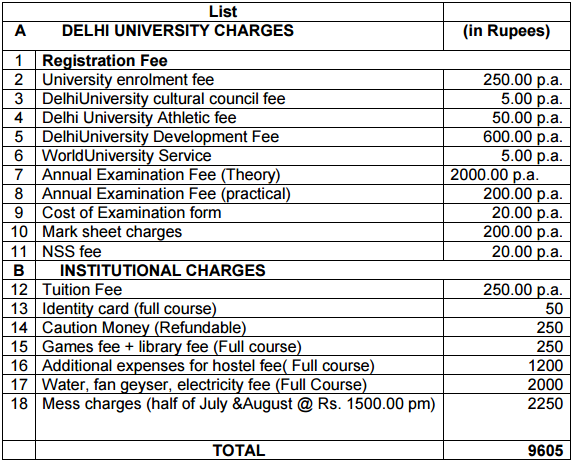 Feel free to Share your query with us, if any. We will try our level best to revert soon. Thanks