NDA 2017 (2) has been conducted successfully on 10th September and various institutions have also released its answer key. The exam is organized by Union Public Service Commission (UPSC) for recruitment of candidates to the Indian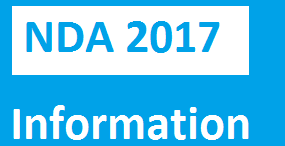 Defense forces including Indian Air Force, Indian Navy and Indian Army. NDA NA is the finest opportunity for numerous aspirants those have dream of setting up their career in the field of defense. Interested and willing candidates can obtain the NDA 2017 (2) result very soon.
NDA 2017 result will be available soon. We'll provide here the direct link to check the result.
Eligibility Criteria to Appear in NDA 2017 (2)
Nationality Criteria
As per the nationality criteria, candidates should meet with one of the following nationality criteria:
A resident of India, or
A Tibetan refugee who came in India before 1st January, 1962 to settle permanently, or
A subject of Nepal, or
A subject of Bhutan, or
An individual belonging to Indian Origin but migrated from the countries namely the United Republic of Tanzania, Zambia, Kenya, Malawi, Uganda, Zaire and Ethiopia or Vietnam to settle in India.
हिन्दी मे जानने के लिए क्लिक करें
Marital Status, Age Limits and Sex
Only unmarried candidates can apply for the test. No candidates are allowed to get married during training period. Now, talking about the age criteria for NDA 2017 (2)are as follows:
For NDA 2017 (2) Exam: Candidates should not born before 02nd January 1999 and after 01st January 2002.
Minimum Educational Qualification
Eligibility criteria for Army Wing of National Defence Academy: Class 12th or its equivalent exam pass from State Education Board or a University.
Eligibility Criteria for Air Force and Naval Wings of National Defence Academy and for the 10+2 Cadet Entry Scheme at the Indian Naval Academy: Class 12th or its equivalent exam pass with Physics and Mathematics from a State Education Board or a University.
Physical Criteria
Candidates should be physically fit according to the physical standards of the respective authority.
Ensure your eligibility- Check Here
NDA 2017 (2) Important Dates
Check out below all dates associated NDA exam 2017. This will help you in participating in all events of NDA in an easiest way.
For NDA 2017 (2)- Released
| | |
| --- | --- |
| Official notification releasing date | 7th June, 2017 |
| Last date to fill up the application form | 30th June, 2017 |
| Admit card availability | Updated soon |
| Examination date | 10th September, 2017 |
| Result | Updated soon |
Tips to Score Good Marks in Exam- Check Here
Best Books for NDA Exam Preparatiom- Check Here
NDA 2017 (2) – How to Apply?
Candidates can apply online from the official website of UPSC i.e. http://www.upsc.gov.in/. Important instructions to fill up the application form are as follows:
Candidates should submit only one application. In case due to some reasons, they have submitted multiple applications then they need to complete the application with higher RID in all its aspects.
Eligibility criteria section must be checked by candidates before they start the application procedure.
During application procedure, candidates will be also asked to give preferences of the exam centres. Candidates are instructed to carefully choose the exam centre.
Candidates must require to appear in exam at the centre mentioned on their E-Admission certificate.
Payment of prescribed fee is also necessary for submission of application form successfully.
Application Fee
Application fee is Rs. 100/- for all candidates excluding SC/ST candidates/Sons of JCOs/Ors/ NCOs. Application fee can be paid either by submitting the amount in any SBI branch or through online banking facility of State Bank of India/ State Bank of Hyderabad/ State Bank of Bikaner & Jaipur/State Bank of Mysore/ State Bank of Travancore/ State Bank of Patiala or through Visa/Master Credit/Debit Card.
Interested to apply- Check Here
Exam Centre
Agartala, Aizawl, Ahmedabad, Allahabad, Bareilly, Bengaluru, Bhopal, Chennai, Chandigarh, Cuttack, Delhi, Dehradun, Dharwad, Gangtok, Dispur, Hyderabad, Itanagar, Imphal, Jaipur, Jorhat, Jammu, Kochi, Kolkata, Kohima, Lucknow, Mumbai, Madurai, Nagpur, Patna, Panaji (Goa), Port Blair, Ranchi, Raipur, Sambalpur, Shimla, Shillong, Srinagar, Tirupati, Thiruvananthapuram, Vishakhapatnam and Udaipur
NDA 2017 (2) Exam Pattern & Syllabus
There will be two papers in the written test, Paper A and Paper B. Paper A consist of questions from Mathematics whereas, Paper B will be a General Ability Test.
Language mode of the question paper will be English as well as Hindi.
It is essential to write the papers by candidates in their own hand. No candidates are allowed to get help from a scribe.
Candidates can't use calculator, logarithmic or Mathematical table to answer objective type questions.
Check Exam Pattern & syllabus Info- Click Here
Admit Card- NDA 2017 (2)
Admit card will be available at the official website of UPSC i.e. http://www.upsc.gov.in/.. Exam date of uploading the admit card will be updated in this article soon we get official intimation regarding the same.
Result and Selection Procedure
NDA 2017 result will be available after one month from the completion of exam. After declaration of written exam result, candidates need to be ready for SSB interview which will be conducting over 4 to 5 days. Based on candidate's performance in SSB interview they will be invited for medical test and document verification procedure.
Link to check your result- Click Here
FAQ's (Most Asked Questions)
Answer Key
Candidates will find question papers in the exam in different sets. The Union Public Service Commission will release set-wise answer key after the recruitment process is over. By following the answer key candidates can easily calculate the marks they are going to achieve. I would like to intimate all NDA aspirants that they should not consider the answer key as their final result as it will be provided to them at further stage.
NDA 2017 (2) Cutoff 
Acquiring equal or more than cutoff marks is highly essential in terms of becoming qualified in the exam. UPSC will decide cutoff of a particular year based on numerous factors including difficulty level of the question paper, how many candidates appeared in the exam, average marks scored by candidates etc.
Facilitation Counter
Candidates, having any sort of issues related to NDA exam scheme or want any information/ guidance/clarification related to their applications, first of all they should contact facilitation counter of UPSC located near gate 'C' of its office. Candidates may visit the facilitation centre either in person or thru the Telephone number 011-23385271/011-23381125/011-23098543 on all working days in between 10.00 hrs and 17.00 hr.
Travelling Allowance in NDA 2017
If you are going to appear for SSB interview for the first time for a specific category of commission i.e. Short service or permanent then you'll be provided to and fro railway fare for AC third tier or bus fare along with reservation cum sleeper expanses. However, there will be no travelling allowance for candidates who are appearing for second time for the similar type of commission.
Special Instructions to Candidates Appearing for NDA 2017 Objective Type Exam 
Which Particulars Are Allowed Inside the Examination Hall
Candidates can bring hard board or clip board but please ensure that nothing is written on that. Along with that, candidates need to bring good quality black ball point pen for answering responses on answer sheet. Your invigilator will provide you answer sheet and an extra sheet for rough work.
Which Particulars Are Not Allowed Inside the Examination Hall
Candidates are completely restricted to bring particulars such as notes, books, loose sheets, electronic or any other calculators, Log Tables, mathematical and drawing instruments, stencils of maps, Test Booklets, slide rules etc.
Instructions to Fill Answer Sheet During NDA 2017 Objective Type Test
Candidates must keep in mind that their answer sheet will be evaluated on Machine therefore, they should be very much careful while answering questions. Before you start marking responses on answer sheet you need to fill up various other particulars.
Once you get the answer sheet during exam then first of all you need to verify that it is numbered at the bottom. If you have found it un-numbered then you need to make replacement of the same.