Founded in: 1906
City: Dehradun, Uttarakhand
Major courses: M.Sc
Get universities,Exam Updates through e-mail, by entering your details below.
Type: Deemed
Affiliated to: UGC
Contact number: 0135-2755277
About the University
Having seen its establishment in the year 1906 as Imperial Forest Research Institute, Forest Research Institute is now emerged as one of leading institute under the Indian Council of Forestry Research and Education (ICFRE). The university is improving its status by offering the quality level of facilities that are required for today's students to feel truly good in an institute. It was founded with only aim to impart education in various branches of forestry and environment, to give for research and development and broadcasting of knowledge in the field of forestry & environment, to generate awareness about forest & environment among the people by forestry extension courses and to bring forward such other activities as may be essential and wanted to further the conservation of environment and safety of forests and wildlife.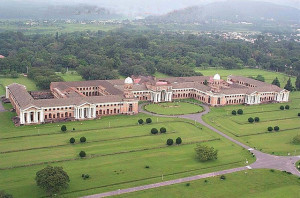 Infrastructure of Forest Research Institute (FRI)
Located in lush green region spread across 450 hactares, the University main building is an extraordinary construction, with a base area of 2.5 hactares. The FRI has a developed infrastructure of all equipped laboratories, herbarium, library, arboreta, and printing press and Workshop areas for organizing forestry research. Apart from its grand building the institute also possesses a Botanical Museum for the attraction of tourists.
Major Facilities at Forest Research Institute
Medical Facility
Hostel
Library
Sports Facilities
Cultural Activities
Museums
Courses and eligibility criteria offered at Forest Research Institute
Master of Science –two years
Candidate must be Graduate or Equivalent degree holder
Doctor of Philosophy (Science)- two years
As similar to Master of Science
Master of Science (Agriculture) – two years (2 courses)
Applicant should have passed Graduation
Post Graduate Diploma in Agriculture- 1 year
As similar to Master of Science (Agriculture)
Admission Details at Forest Research Institute
Candidates are selected in order of merit on the basis of multiple choice written entrance test conduct by university at various centers. There is a reservation of seats of 15% and 7.5% for candidates belonging to SC and ST category respectively. Latest Admission notification, information Bulletin and other important details including the application forms can be downloaded from the official website of University.
Placement at Forest Research Institute (FRI):
FRI has an active centralized placement cell functioning throughout the year. The recruitment of candidates is based upon some important parameters such as job profile, growth prospects and salary package of the company. Various big Industries and organizations visit the campus for interviews. On an average 50% of the candidates get placements by the campus interviews.
Contact Details of Forest Research Institute (FRI):
Address: Forest Research Institute, Dehradun
Uttarakhand, India
Contact Phone Number: +91 135-2752678, 2755277
Email contact: [email protected], [email protected], [email protected]
Website address: fri.icfre.gov.in