The apprehension and expectancy of medical aspirants regarding conducting of NEET exam this year is finally over. The Honorable Supreme Court has given decision in favour of students and according to that NEET will be implemented from the year 2016 only. There are two categories of students can appear for NEET this year, one who already appeared in NEET Phase 1 (AIPMT) can reappear in NEET Phase 2, conducting on 24th July, 2016. Another category is group of fresh aspirants who failed to apply for AIPMT 2016.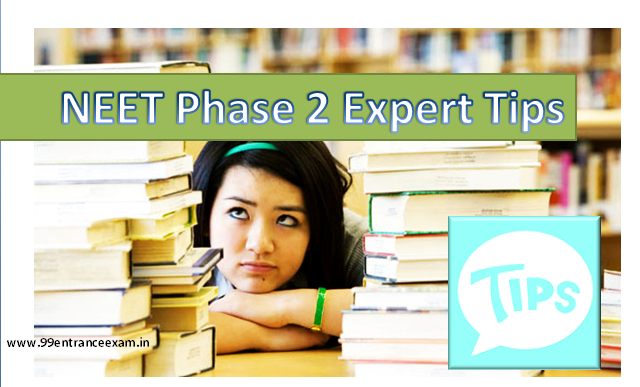 Candidates who already appeared in NEET Phase 1 would have better level of preparation in compare to those are appearing for NEET Phase 2 first time. I'm sharing here tips to prepare for NEET Phase 2 in two months for both categories of candidates.
 Few Tips for Aspirants Re-appearing in NEET Phase 2
Recall those topics and concepts which may be diminishing from your mind, study through your revision notes is recommended.
If you haven't prepared revision notes then you should revise through NCERT books for Biology, Physics and Chemistry.
Go through your AIPMT paper and analyze in which part you scored well and where you're lacking behind. Now separate your strong and weak areas and concentrate on your weak areas first. Clear the concept of that particular topic and do proper practice on similar problems.
If there is some confusion exist then get assistance from your seniors or mentors to clarify the same.
Candidates who appeared in AIPMT they need to put some effort to clear the test. Make proper revision and try to solve maximum number of questions.
Get Uncategorized,Exam Updates through e-mail, by entering your details below.
Few Tips for Aspirants who haven't appeared in AIPMT 2016 But Appearing in NEET Phase 2
Candidates need to practice more and more questions so that they would be comfortable with commonly asked questions. You need to concentrate more on problems rather than concepts as you might be aware with those.
Download previous years question paper and practice different types of problems from there.
Also solve problems for Physics, Chemistry and Biology from NCERT books.
Various reputed coaching classes have started crash course for NEET aspirants, you may join that for speed up your preparation level.
You need to enhance your problem solving skills and you can do so by solving maximum numbers of problems.
Be confident, don't take stress and concentrate on your weak as well as strong areas.
We Welcome Your Queries
Candidates having sort of queries related to NEET exam or they are seeking some more tips, we welcome them to share their concern (s) with us. We feel happy to assist you.
NEET UG 2016 Complete Detail:
Click Here
All d Best!