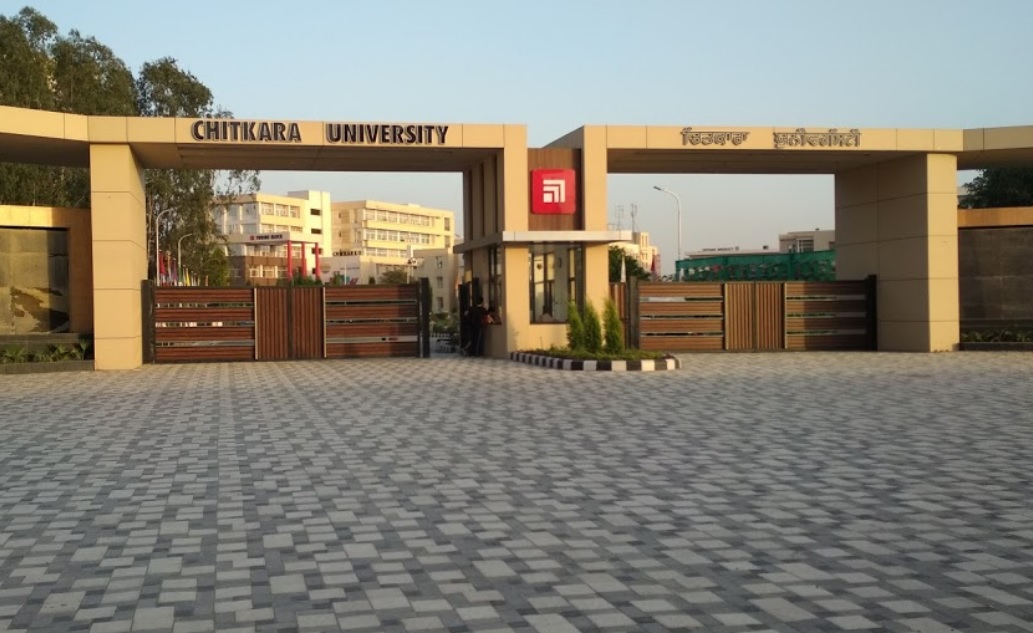 Chitkara University Admission 2022: Applications will be invited by Chitkara University for admission to undergraduate and postgraduate degree courses in the fields of Engineering, Management, Information Technology, Hotel management, Architecture, Hospitality, Mass Communication and Journalism, Pharmacy, and Teacher Training. Candidates seeking admission at Chitkara University under any above-said faculty/course may apply as per given schedule. Aspirants can check the complete details about Chitkara University admission 2022 from the article mentioned below on this page.
UG Courses offered by Chitkara University
Bachelor's in Engineering and Technology – (7 courses)
Information Technology – (2 courses)
Planning and architecture- (1 course)
Business and accounting- (3-courses)
Hospitality and Management – (1 course)
Journalism and Mass Communication- (1 course)
Nursing & Allied Health Sciences –(8 courses)
Art & Design- (4 courses)
Pharmaceutical Sciences- (2 courses)
PG Courses offered by Chitkara University
The University offers postgraduate programmes in following faculties:
Master's in Engineering & Technology – (4 disciplines)
Master's in Business Administration – (8 disciplines)
Information Technology (MCA)
Master's in Pharmaceutical Sciences (3 courses)
M.Optometry – (1 course)
Physiotherapy- (1 course)
M.A.  Journalism- (1 course)
M.Ed – (1 course)
Phd – (8 courses)
Also Read
Chitkara University UG Admission
Chitkara University PG Admission
Chitkara University Admission 2022 Application Form: How to apply?
Candidates can download Chitkara University admission application form for different academic courses from the official website of University i.e. www.chitkara.edu.in. Fill the application form carefully and correctly. Candidates have to pay a certain amount as applicable application fee either in cash or by Demand Draft in favor of "Chitkara University" payable at Chandigarh. Cheques will not be accepted.
Candidates need to attach the copies of the mandatory documents with the admission form. Take the print out copy of duly filled in application form and bring the same along with required documents at the time of counseling.
Note: Candidates should note that incomplete Admission forms will not be accepted.
Selection Process
For B.E/B.Tech
The admission will be done on the basis of merit rank of the candidate in the JEE-MAIN.
For B.Arch
Selection of candidates will be done on merit based on the valid NATA score and marks scored in the qualifying test in the ratio 50:50.
Other UG courses: Admission to rest of the graduate courses will be done through the previous educational record and personal interview.
For M.E/M.Tech
Admission to M.E/M.Tech courses will be done on the basis of GATE Scores and personal interview.
For MBA
Admission to MBA Program will be based on the merit ranking in MAT / CAT / NMAT / CMAT/ XAT score followed by group discussions (GD) and personal interview (PI). Candidates who have not taken any of the above-mentioned entrance tests will have to take Chitkara University Test (CUT 2022) with group discussions and personal interview.
Selection in rest of postgraduate courses will be made through marks scored in bachelors and qualifying examination organized separately for different courses.
About Chitkara University
Chitkara University is a well known private university in India with having its campus in Punjab and Himachal Pradesh, India. The university offers full courses in undergraduate and postgraduate degree programs in various disciplines. Chitkara University is recognized by UGC under the sections 2(f) and 22(1) of the UGC Act, 1956. The university has about more than 10,000 students and over 600 faculty members.
Chitkara University Contact details
Punjab Campus
Chandigarh-Patiala National Highway (NH-64)
Punjab- 140 401, India
Contact number: +91 9501105718
Email address: [email protected]
Website: http://www.chitkara.edu.in/
For more news and updates, stay tuned with 99entranceexam