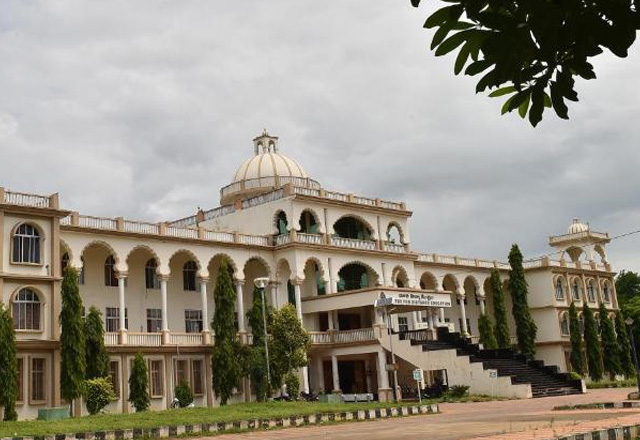 ANUPGCET stands for Acharya Nagarjuna University Post-Graduation Common Entrance Test. This is an entrance exam conducted to shortlist candidates for admission to Acharya Nagarjuna University and its affiliated colleges. The admissions are offered into various post-graduation courses in the field of Sciences, Humanities & Social Science, Commerce, Education & Teaching, and Languages, etc. Those interested candidates who are looking to apply need to submit an application form before the last date. It is also recommended that you should check the eligibility criteria carefully before submitting the form. Go through this post to know all the necessary information related to the ANUPGCET 2022.
Courses Name
ANUPGCET 2022 exam is conducted to choose candidates for admission to the following courses.
M.Sc. (Life Science) – Aquaculture/ Biochemistry/ Biotechnology/ Nanobiotechnology/ Botany/ Environmental Science/ Food Science, Nutrition and Dietetics/ Microbiology/ Zoology
M.Sc. (Physical Sciences) – Physics/ Electronics/ Electronics & Instrumentation Technology/ Nanotechnology
M.A. – Ancient History & Archaeology/ Economics/ History/ Journalism and Mass Communication/ Mahayana Buddhist Studies/ Political Science/ Public Administration/ Rural Development/ Sociology
M.Sc. Computer Science/ Mathematics/ Statistics/ Analytical Chemistry/ Inorganic Chemistry/ Organic Chemistry/ Forensic Chemistry/ Oils, Fats & Petro Products/ Geology/ Nantechnology
Master of Social Work (MSW)
MHRM
M.L.I.Sc.
M.Sc. Yoga for Human Excellence
MA English/ Hindi/ Sanskrit
M.Ed.
M.P.Ed.
M.Com
ANUPGCET 2022 Important Dates
The tentative dates for ANUPGCET 2022 are given in the following table.
| | |
| --- | --- |
| Main Events | Tentative Dates |
| Starting of online application form submission | 4th week of February 2022 |
| Last date to submit the application form without late fees | 3rd week of April 2022 |
| Last date to submit the application form with late fees | 4th week of April 2022 |
| Admit Card for ANUPGCET | 2nd week of May 2022 |
| Declaration of result | 4th week of May 2022 |
ANUPGCET Eligibility Criteria 2022
The eligibility criteria are different for various courses as given below.
M.Sc. Biotechnology/ Nanbiotechnology – Bachelor's Degree in Physical / Biological Sciences / B.Sc. in Farm Science / B.Sc. Ag. / B.V.Sc., / Bachelor's Degree in Medicine or Pharmaceutical Sciences / B.E / B.Tech.
M.Sc. Aquaculture – B.Sc., With Zoology / Fisheries / Fishery Science / Aquaculture / Industrial Fish and Fisheries / Any of the Life sciences as one of the subjects
M.Sc. Foods & Nutritional Science  – Bachelor's Degree in Life Sciences, Natural Sciences, Biological Sciences and Paramedical Courses
M.Sc. Environmental Science – Any B.Sc. or B.E.M. Degree holder
M.Sc. Zoology – B.Sc. with Zoology as one of the subjects
M.Sc. Chemistry – B.Sc., with Chemistry as one of the Three equal subjects in Common Core System. Organic, Inorganic and Analytical specializations are offered in A.N.U. College. The candidate has to choose one of the three specializations at the time of admission
M.A. Journalism and Mass Communication/ History/ Ancient History & Archaeology/ Mahayana Buddhist Studies/ Sociology/ Master of Social Work (M.S.W.)/ M.H.R.M/ M.L.I.Sc. – Any Graduate candidate can apply
MA English – B.A. / B.Sc. / B.Com./ B.B.M. / B.C.A. / B.A. (O.L.) in Telugu / B.A. (O.L.) in Sanskrit with general English, Degree in Hotel Management, B.A. with Special English in the group subjects.
M.P.Ed. – B.P.Ed. degree (not less than 55% marks). There is a relaxation of 5% marks for those get 1, 2, 3 positions in State Level Sports / Games and those who have participated in the National Sports / Games. (The course is totally residential)
PG Diploma Courses – Advanced Aquaculture Management/ Ambedkar Studies/ Gandhian Studies/ Mahayana Buddhist Studies/ Yoga for Human Excellence – Any Graduate can apply (Science graduate for Advanced Aquaculture Management)
ANUPGCET 2022 Application Form
The application form for ANUPGCET 2022 will release in online mode only. Aspirants must ensure that they are eligible before filling the form. The step by step process to submit the application form is given below.
First of all, you need to visit the official website of the university.
On the official website, you need to find and click on the application form link.
The main application form will open on your screen after clicking on the link.
In the main application form, you are required to enter your complete educational, personal, and contact detail.
Please enter authentic details because the application form can get rejected in case of entering incorrect details.
Apart from the details, you have to upload scanned images of your photograph and signature.
It is also compulsory for all candidates to pay the necessary application fee.
The fee submitted will not be refunded in any case.
Don't forget to take a printout of the application form submitted for future reference.
Application Fee
The application fee for different categories is as follows.
General candidates – Rs. 600/-
SC/ ST candidates – Rs. 500/-
Mode of payment – Candidates can pay the application fee online using a credit card, debit card, or internet banking.
Admit Card
Those candidates who will fill and submit the application form before the last date will be able to download the hall ticket/ admit card.
To download a hall ticket, aspirants have to visit the official website and provide their registration details.
The information regarding the date, time, and venue of the examination will be mentioned on the admit card.
No candidate will be allowed to enter the examination hall without an admit card.
Aspirants should keep the hall ticket till the admission process gets over.
ANUPGCET 2022 Exam Pattern
The ANUPGCET Exam Pattern 2022 is explained below.
Mode of examination – Offline (OMR Sheet based examination)
Type of questions – Objective type multiple choice questions
Number of questions – 100 questions
Maximum marks – 100 marks
Duration of examination – 90 minutes
Language of questions – English and Telugu
Marking Pattern – Each question will carry 1 mark
Negative Marking – No applicable.
ANUPGCET Syllabus 2022 
The syllabus of ANUPGCET 2022 is different for various courses. Given below are the topics included in the syllabus of some courses.
Life Science courses – Cell Biology, Ecology, Environment and Evolution, Genetics, Physiology, Molecular Biology and Genetic Engineering, Metabolism, Biotechnology, Animal Science, Biomolecules, Plant Science, Immunology, Microbiology, Techniques, Nutrition.
Electricity, Magnetism and Electronics: Electrostatics, Varying and alternating currents, Dielectrics, Maxwell's equations and electromagnetic waves, Capacitance, Basic Electronics, Magnetostatics, Digital Principles, Moving charge in electric and magnetic field, Logic gates, Electromagnetic induction.
Thermodynamics and Optics: Kinetic theory of gases, The Matrix methods in paraxial optics, Thermodynamics, Aberrations, Thermodynamic potentials and Maxwell's equations, Interference, Low temperature Physics, Diffraction, Quantum theory of radiation, Polarization, Statistical Mechanics, Laser, Fiber Optics and Holography
Mathematical Sciences: Linear Algebra and Vector Calculus (Linear Algebra, Multiple Integrals and Vector Calculus), Real Number, Differentiation and Integration, Differential Equations & Solid Geometry (Differential equations of first order and first degree, Differential equations of the first order but not of the first degree, Higher order linear differential equations, System of linear differential equations, Solution of a system of linear equations with constant coefficients), Solid Geometry (The Plane, The Line, The Sphere)
Result 
The university will declare the result online through its official website
To check the result, candidates need to enter their roll number, exam code, and examination centre code.
The result card contains information about the subject-wise and total marks secured by candidates in the entrance test.
Along with the merit list, the university will also release the merit list of candidates selected for admission.
ANUPGCET 2022 Counselling
The counselling process of ANUPGCET will take place in online mode only.
During the counselling process, aspirants need to provide their choice of college and course they want to study.
The seats are allotted on the basis of marks secured by candidates in the entrance exam and choice filled by candidates in the counselling.
The admission is confirmed after the verification of documents and payment of admission fees.
List of enclosures
ANUPGCET Application, Hall Ticket
ANUPGCET Rank Card
Transfer Certificate & Conduct Certificate from the college last studied
Degree Provisional Certificate / Original Degree
Degree Mark Memos of Three Years
Reserved Category / Permanent Caste Certificate issued in 2022 from Mee Seva (for SC, ST and BC Candidates if reservation is claimed)
S.S.C / Date of Birth Certificate
Intermediate or equivalent Certificate
Income Certificate issued in 2022 from Mee Seva (if fee concession is claimed)
Study Certificates (from 9th Class to Degree final year) / Residence Certificate of last Seven Academic Years/
Copy of the Relevant Certificates issued from concerned authorities if Special Reservation is claimed under PH/ NCC/ SPORTS/ CAP
Migration Certificate (Student studied other than Acharya Nagarjuna University)
Declaration form
Two sets Xerox copies of above-mentioned certificates and Two Passport size photos
Frequently Asked Questions 
Question – 1: Is there any age restriction for admission into any PG courses?
Answer: No, there is no age restriction for Admission into any P.G. courses. However, those candidates who crossed the age of 30 years for OC, 34 years for BC, SC and ST are not eligible for claiming/ applying any Fee Reimbursement
Question – 2: Will there be any negative marking in the ANUPGCET examination 2022?
Answer: No, there is no provision for any negative marking.
Question – 3: Is there any reservation for local candidates?
Answer: Yes, 85% of the available seats in each category in each course of study are reserved in favour of the local candidates belonging to the districts of Srikakulam, Vizianagaram, Visakhapatnam, East Godavari, West Godavari, Krishna, Guntur and Prakasam.
Question – 4: What is the counselling process fee that I need to pay at the time of counselling?
Answer: The counselling process fee for different category candidates is as follows.
OC/ BC – Rs. 1200/-
SC/ ST candidates – Rs. 600/-