The Acharya N.G. Ranga Agricultural University (ANGRAU) is responsible for Education, Research and Extension in Agriculture and allied fields in Andhra Pradesh state. The University provides education leading to the Doctoral degree courses in Agriculture, Home Science/Agricultural Engineering and allied fields.
Eligibility Criteria:
Candidate should have done Master of Science or an equivalent examination in Agriculture or Home Science/ (or) Agricultural Engineering in related fields with obtaining minimum 50% marks in the aggregate or an OGPA of 3.25 /4.00 or OGPA of 7.50 /10.00 point scale in grade point system (3.00/ 4.00 or 7.00/10.00 for SC/ST category).
Candidate should have B.Sc. (Ag.)/ B.Sc. (Home Science)/ B.H.Sc. (Rural) / B.Tech (Ag. Engg. & Tech) of four years duration degree from ANGR Agricultural University or an institution accredited by ICAR / approved by ANGRAU.
Candidates, who qualified M.Sc. (Ag.) in Seed Science and Technology, are eligible for Ph.D. course admission in any of the subjects or fields including Genetics and Plant Breeding, Plant Pathology, Plant Physiology, Entomology and Agronomy
Candidates, who cleared M.Sc. (Ag.) in Plant Biochemistry, can apply for Ph.D Course in Molecular Biology /Biotechnology /Microbiology
Age Limit:
The upper age limit of candidate is 40 years as on 1st July of the year of admission.
Reservation Criteria
6%, 15% and 29% of the seats in each department will be reserved for applicants belonging to ST, SC & Backward Classes respectively.
3% seats are reserved for physically disabled applicants as per Govt. norms.
85% of the seats in each major field of study will be reserved for local candidates and are distributed as per to the local area in respect of the Osmania University and Kakatiya University; Andhra University and Nagarjuna University; and Sri Venkateswara University in the ratio of 36: 42:22 respectively.
Application Form: How to apply
Candidate can download the application form for PH.D admission online through official website link. They have to fill important details as prescribed in the application form very carefully and accurately. After that send the duly filled in applications together with all the required documents at below address through registered post:
Get ANGRAU,Exam Updates through e-mail, by entering your details below.
"The Registrar, Acharya N.G. Ranga Agricultural University,
Admn.Camp Office: Vijaya Durga Towers
M.G. Inner Ring Road
Guntur – AP (522 509)
Applications received after the due date will not be considered.
If any of the important documents are not attached, the application is responsible to be rejected immediately. Candidates, who are already employed, must send the applications through their employers so as to achieve on or before the due date.
Selection Criteria
Selection of eligible applicants for admission to Ph.D. programmes will be made by a Selection Committee constituted by the Vice-Chancellor. The applicants have to appear for entrance test and personal interview round at specified date and places.
The selection criteria will be as follows
Entrance Test – 50 % Weightage
Sc. level – 30 % Weightage
Sc. level – 10 % Weightage
Interview Performance – 10 % Weightage
Important dates
Official dates for ANGRAU Ph.D admission hasn't been released yet. Below we've provided previous year schedule of admission so that candidates can rough idea about the admission dates.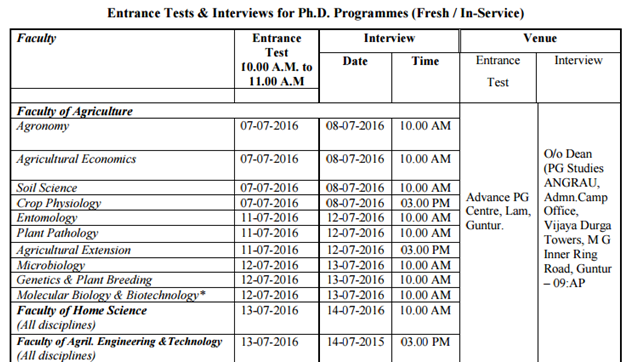 For Latest Updates Please Subscribe our Telegram Channel: Here