Amity University Admission 2023– Amity University offers admission to various undergraduate and postgraduate programmes. It is a multi-campus private research university located at Greater Noida, Gurgaon, Gwalior, Jaipur, Kolkata, Lucknow, Mumbai, Noida, Raipur, London, and Dubai. If you are interested to get admission to the undergraduate or postgraduate programme at Amity University then explore this article for complete info.
Courses Offered by Amity University
List of courses offered by Amity University are:
Undergraduate Programmes: B.A, B.Arch, B.Com, B.Pharma, B.Sc, B.Tech, BBA, BCA, Diploma, Integrated/Dual degree programmes
Post Graduate Programmes: B.Ed, LLM, M.Arch, M.Phil, M.A,M.Com, M.Ed, M.Pharma, M.Sc, M.Tech, MBA, MCA, Nursing, PG Diploma, PhD
Also Read
Get AMITY University,Exam Updates through e-mail, by entering your details below.
Eligibility Criteria
For admission to aforesaid programmes, it is must to fulfill the minimum eligibility criteria as specified by the concerned authority. Eligibility norms for each course will be different from each other. Candidates are advised to go through the prospectus for course-wise eligibility norms.
Admission Procedure
First of all, you need to verify whether your application form has accepted or you have been shortlisted for the interview or not. Now, select the date of appearing in the admission procedure. Take the printout of the admission letter. Candidates who are shortlisted for the interview will be further notified regarding the date, time and venue of admission procedure through its official website i.e. www.amity.edu.
*Admission procedure for undergraduate and postgraduate programmes would be started from January & April 2023, respectively.
Admission Procedure for Foreign or NRI Category Applicants
Minimum Eligibility for Bachelor's Degree Programmes
The very first criterion is candidates should have completed 12 years of formal schooling. Along with that, candidates who have cleared TOEFL with 213 in CBT or 550 in paper-based test or hold a band of 6.5 in IELTS are eligible for admission to this programme.
Minimum Eligibility for Post Graduate Programmes
Candidates who have completed 12 years of formal education along with 3 years duration Bachelor's degree are eligible for admission.
AMITY University Admission 2023: How to Apply?
Admission form for the year 2023 will be obtainable from the official portal of the respective authority. The authority has intimated the cost of application form is Rs. 1,100 /-. Payment of application fee can be done by following one of the following methods:
By using the credit card/debit card;
The amount can be paid in the form of demand draft in favour of 'Amity Form' payable at New Delhi. Please mention your name and Amity application form number at back side of the demand draft.
Candidates are also permitted to purchase admission pack from any of the Amity campus located across the country.
Guidelines to Apply
Please follow the guidelines required for AMITY University admission 2023:
Ensure your eligibility and fill up the form with genuine information.

In case you've appeared in the qualifying exam but the result is awaited then your admission will be provisional until you fulfill the necessary eligibility norms.

You must fill up the form by your own handwriting and the undertaking must be signed by you.

We advise candidates to strictly follow the instructions of the application as specified by the concerned authority

Enclose necessary certificates into your application form.

Please fill up your form by providing only genuine information as you won't be allowed make any changes further.
Your application should be submitted at the respective campus you're looking for admission. Here is the official address of various campuses of Amity University, please have a look: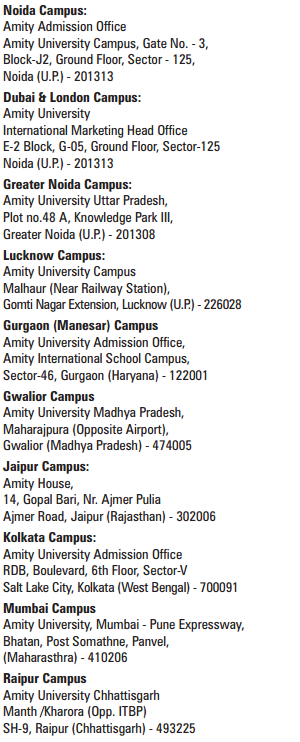 For Latest Updates Please Subscribe our Telegram Channel: Here